Ok my dear friends,
I think I have found the bathing suit that I want for the #operationredbikini challenge that
Kassie
is hosting.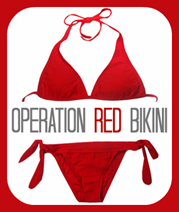 I would really like your opinions on this one because I kind of put it together on the
Victoria's Secret website
through their bikini builder.
So, this could possibly not work.
But, I kind of liked the miss-matchy-ness of it.
What do you think?
Are any of you lovely ladies participating?
Let me know because I'd love to follow your journey!